Buy version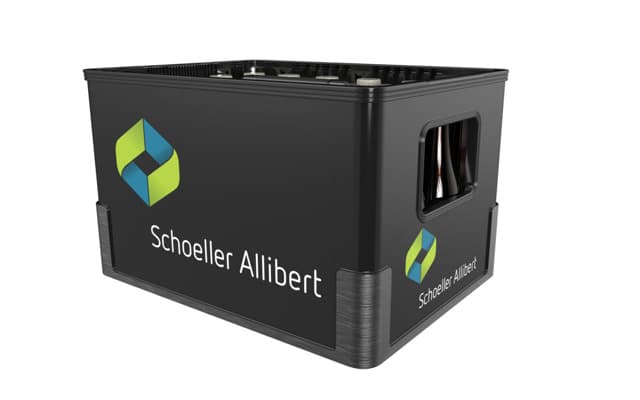 8365000 - Beercrate 24x33cl - UBC Apo
UBC Universal Beer Crates: Lightweight, contemporary design with optional inmould label
Own design beer crates used to be only an option for large brewing companies, designing their own crates and using this as a marketing utility. Why is this not available for the rising number of smaller breweries? That is a question which we often have heard in the market, so therefore we decided to pick up this ball and introduce a universal beer crate to be personalized for smaller breweries on smaller quantities. Using the experiences from the large international breweries we are now able to offer a customized beer crate for all breweries. The design is available in 3 different sizes, to hold the standard bottles 25cl APO, 33cl APO, 30cl BNR and 33cl STEINI. APO crates available in closed and display version, depending on the UV protection your product desires.
A large area is provided to brand and customize the crate with inmould label, which enables the use of photographic quality images. The more affordable silkscreen printing is of course also possible.
The central handle in the APO crates increases the comfort to carry the 24 bottles (25cl or 33cl). The handles are designed ergonomically: The well-rounded airmould lamella handles allow high carrying comfort as you wish to supply to your customers.
The crate is designed in accordance with the high requirements of the brewery, developed to be stacked 7 layers per pallet and 3 pallets. Base is designed in a way it's 100% interstackable with current crates in the Benelux market and suitable to stack in cross bound
Environmentally friendly: the beer/softdrink crates are fully recyclable and made of HDPE virgin or regrind.
UBC: The new Schoeller Allibert range of standard beer crates
Key features of the Universal Beer Crate UBC®:
Dimensions:

Suitable for:

Version:

Volume :

Weight:

Stacking height:

Unit load: kg

Static load: kg

Crossbound stackable and 100% interstackable with current crates

100% interstackable with crates for similar bottles

Crates can hold 24 bottles of 25cl and 33cl

Central handle for easy carrying (except for Steini 33cl)

Available in 3 sizes in closed or display version

Large area to brand and customize the crate with inmould label or silkscreen print

Conform DPB pallets and wooden industrial pallets (1000x1200mm)

Producted in HDPE Virgin or Regrind if desired

The crates are fully recyclable

Modern design; The corners are protected by a texture to keep your crate nice.
More details
Benefits
Suitable for stacking 7 layers per pallet, 3 pallets high
Lightweight crate in modern design
Central handle for easy carrying
Ergonomic airmould lamellas for easy carrying
Large branding exposure
Handling conform Benelux standards
100% recyclable
Available in closed or display design