Buy version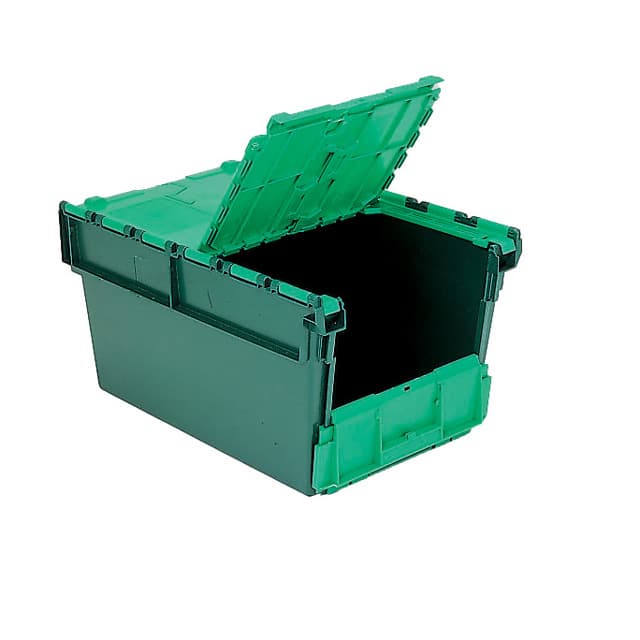 9115001 - ALC Green 600x400x320
Attached Lid Containers (ALC): safe, secure and easy to handle
Stack/Nest containers securely stack when loaded and nest when empty to save valuable space on return transport. the attached lid containers protect products from pollution and contamination. Strength and ergonomics: with a unit load up to 30 kg and stacking 5 on 1, they are versatile. Lids hang flat on sides and smooth surfaces are operator friendly.
Safe and secure transport thanks to the security seals and lids allowing strapping. Its design with the bumpers on the end avoid piling boxes up on conveyors. Equipped with an integrated label holder on end and stripped zones for self-adhesive labels. Saving up to 70% space when nested for maximum space savings when empty. Automation friendly: all our ALC's run fast and silent on automated handling equipment. RFID ready and with multiple identification options they can be printed with your name and Logo to promote brand awareness.
Note: The Integra® range is not compatible with the Kaiman® range.
Schoeller Allibert's Attached Lid Containers (ALC) range offers a variety of models. Attached lid containers protect products from pollution, dust and contamination thanks to the hinged lid which cannot be lost. Easy to clean thanks to its smooth wall design. Drainage holes enable excess water to flow out after cleaning. Automation friendly, the ALC range is fast and silent on automated handling equipment. When empty, the lids can be opened to nest the ALC's, saving transportation costs and warehouse space. Available in 600x400 and 400x300 footprint.
More details
Benefits
Integrated interlocking lid
Customisation options
Automation friendly
Identification options - ticket window and textured areas for labels
Stack- and nestable design - space saving
Tamper-evident security