Buy version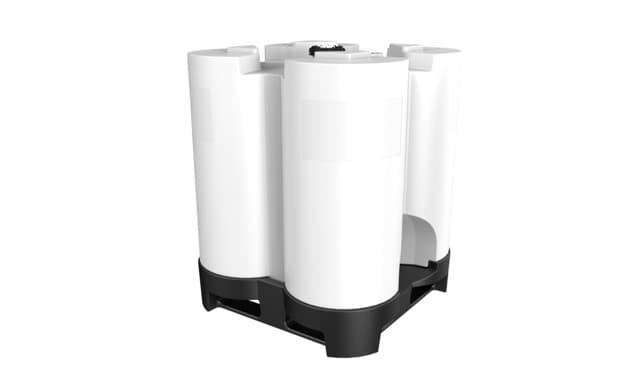 90990AM - TankGo 1000L - 1160x1160x1355
TankGo®: UN Certified for transporting hazardous liquid products
TankGo® is reusable throughout its service life, in line with UN certification for the transportation of hazardous materials. TankGo® is 100% plastic, ensuring it is maintenance free. No oxidation and maintenance thanks to its fully plastic design. Intensively reusable thanks to its thick-walled rationally molded tank and structure to effortlessly withstand impacts and frequent handling. Safe, stable unladen stacking thanks to the 4 rigid pivots. The 3 eye bolts in the upper part of the TankGo® anchors safety belts or safety harnesses. Customizable in a variety of colors.
Optional personalization through the marking of logos, registration, and instructions. There are multiple areas for adhesive labels (100x100mm and 300x210mm) on both short sides. Also, there is 1 area for engraved customer brand, possible on the short side only.
TankGo® is easy to handle thanks to the forklift entries on the long and short side. Safe to transport thanks to the centering points for straps to safe load in the truck. Measure the filling level of the TankGo® easily with the volume scale engraved on the front of the tank. Easy access to the reinforced valve, guaranteeing full drainage or emptying. The anti-depression venting prevents the tank to collapse when discharged suddenly.
UN, ADR, RID, IMDG certified. Certified for the transport and storage of hazardous materials. Manufactured according to rigorous EU regulations. The homologation plate number fixed on the front part of the IBC.
More details
Benefits
100% Plastic - No corrosion
Easy customisation
Intensively reusable
Safe transport