Buy version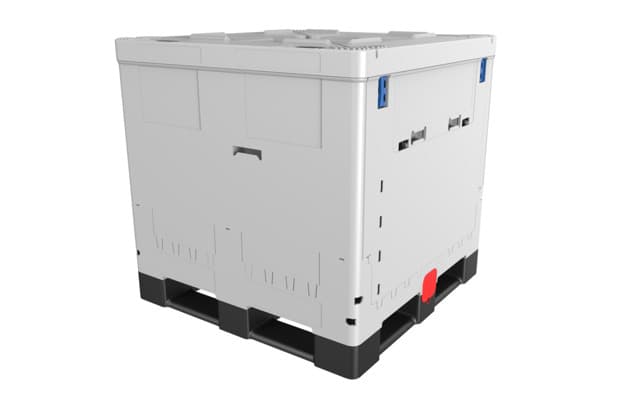 4420032 - CL285 1155x1155x1132 - 6R, BD, DD
Available with SmartLink® technology
ComboLife® 285: a 1000 liter reusable IBC with disposable liner and valve prevents contamination.
The ComboLife® 285 is a compact, foldable IBC's designed to handle a variety of fluids. Lightweight and standard footprint, the ComboLife® 285 combines a practical, cost-effective distribution system with great resource efficiency. Satisfying all health and safety requirements. A free material butterfly valve is available with 250 and 1000 L liners. Naturally, we apply to the latest EC and French food contact regulations.
Its space-efficient dimensions provide optimal stacking and cubing during transport. The drop-down door functions as an optional feature to facilitate easy liner installation or the loading of bulky goods.
Process and logistics
The ComboLife 285 can easily be handled by one operator. Compared to traditional systems, ComboLife® 285 is very easy to maintain and clean. This IBC container combines the benefits of a rigid returnable container system with the simplicity of a disposable liner. With its folding ratio of 60%, the ComboLife® 285 saves you money and time on transport, handling, and storage.
The design was made to maximize logistical savings: thanks to the fast and easy handling and the 60% folding ratio which allows 5 stacked columns of folded IBC per truck. Implementing the ComboLife® 285 in your process will help you to reduce reverse logistics costs. Thanks to its design, ComboLife® 285 can be set up and handled by one operator only, reducing labor costs. The Combo withstands road rails and sea freight with 1400 kg unit load.
Quality
The sturdy, double-wall structure enables up to 7500 kg stacking load or 4 on 1 stacking minimizing storage space in your warehouse and transport. A variety of liners and easily exchangeable accessories such as connectors and valves, ensure you to set up a reliable process with these IBC.
Sustainability
The bag-in-box system is reusable and recyclable, which makes it a sound choice from an environmental point of view. The folding ratio reduces reverse logistics costs, needed space and thus reducing the carbon footprint.
More details
Benefits
Easy to clean design
Stackable - with or without lid
Suitable for heavy-duty usage
Foldable - space saving
Bag-in-box system for transporting liquids
Bottom discharge - easy to empty
Tamper evident caps & closures available
Optimised for sea container filling
Versatile liner range availble
Compatible with DN50 valve
Reinforced version
Strong & sturdy design
Drop door - easy fitting and removal of liner
SmartLink ready