Buy version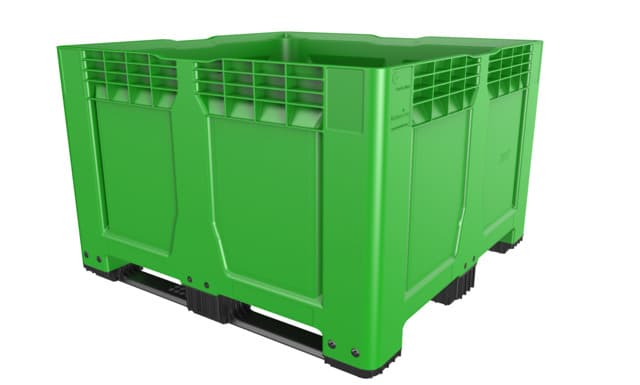 4301300 - Maximus 1200x1200x790 - 3R, Solid
Schoeller Allibert has developed the new food safe AGF crate called Maximus® 1212.
The design envelops the fruit so that it does not shift and roll during transport. Independent tests by the Flemish Center for Horticultural Products show that less damage occurs in this way than in conventional boxes with a flat bottom.
The Maximus® 1212 offers the largest internal volume on the market, which is up to 35 liters more than most 1200x1200 boxes. As a result, the product saves on transport costs and the environmental effects are limited. The Maximus® 1212 can carry 500 kilos and has a static load of 4,500 kilos. The box can also be used for all systems on the market.
The Maximus® 1212 is made from UV-treated virgin material with high-density polyethylene that is suitable for transporting food. The product is 100% frost resistant and can be stored outside for a long time. The box is suitable for RFID and available with sturdy ventilated bottom and walls.
If you want to know more about the Maximus®, we have an informative Maximus® landing page where you can see all the benefits in a row. Also view our handling video pallet boxes to see how you can best handle pallet boxes.
Or view the Maximus® product video here.
Download the Maximus® brochure
The Maximus® 1212 is ideal for harvesting and long term storage in cool chambers for all type of pome fruits and stone fruits.
More details
Benefits
Food approved
Strong & sturdy design
Easy to repair
Easy to clean
Suitable for washing
Different base configurations possible
Ventilated design - optimised airflow
Pocket base - protects fragile fruit
Lightweight design
Easy customisation
Fully recyclable
Warranty
SmartLink ready