Buy version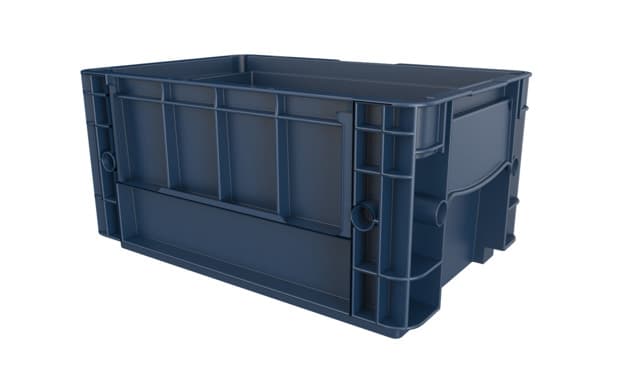 4150760 - VDA R-KLT 3215 300x200x147
Robust R-KLT automotive container has tare weight and a smooth floor with drain holes. The R-KLT container was standardized by the German Association of the Automotive Industry. It is used primarily in the automotive and supplier industry. There, it is ideally suited for the storage, provision, and transport of products in production and assembly. The KLT Box is also compatible with automated logistics systems. RL-KLT according to VDA norm 4500. The R series has a maximum load of 20kg/container.
The RL-KLT product program according to the VDA recommendation is characterized by a low tare weight and a smooth floor with drain holes. The one-wall design of the containers increases the effective volume by up to 25 percent. The RL-KLTs are made of polypropylene, are stable and resistant. The containers are fitted with ergonomic bottom-gripping handles and auxiliary grips on the longitudinal sides. The immersion depth when stacking the containers is 15 mm. Vertical recess holes and positioning drill holes.
Perfect for integration into automated materials handling equipment thanks to the map pockets and label fields for electronic identification. Easy and hygienic cleaning thanks to the smooth inner and outer walls.
The outer walls are additionally reinforced, double walls and struts give the small load carrier more stability and resistance so that it does not deform even under heavy load. The underside of the VDA KLT container has a smooth bottom.
An optional lid is available for the KLT container to additionally protect the stored and transported products against dirt, unauthorized removal or damage. Identifiable thanks to the integrated label holders on all four sides. Ergonomical thanks to the closed handles on both short sides.
In addition, the containers have good fire properties. Extinguishing water can escape in the event of a fire thanks to the drainage holes in the base.
Besides, the KLT containers are insensitive to oils, acids, and alkalis as well as noise-absorbing. The VDA R-KLT remains dimensionally stable at -20 ° to + 100 ° Celsius.
More details
Benefits
VDA Approved
Automation friendly
Smooth design for running on conveyor belts
Ergonomic handgrips
Easy identification
Strong & Impact resistant
Sustainable choice
Cross stacking interlocks 400x300 and 600x400 containers