Buy version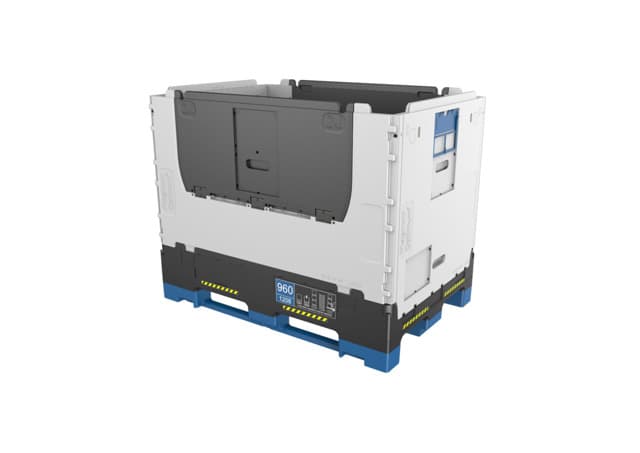 2500861 - Magnum Optimum 1200x800x958 - 2R 2F 2LSDD
Available with SmartLink® technology
Magnum Optimum® 1208: The best reusable folding large container for industrial logistics
Magnum Optimum® 1208: The New Dimension for Industrial Logistics. The Magnum Optimum® 1208 is lightweight (7% lighter compared to the previous generation) whilst offering 12% more volume thanks to the double-wall structure. The Magnum Optimum® 1208 significantly increases truck payload. Less trucks needed, reducing consumption and carbon footprint. Magnum Optimum® 1208 comes in a variety of 4 base options: skids, feet or a combination of the two.
The Magnum Optimum® 1208 has the highest folding ratio on the market. With a folding ratio of 71%, a mega trailer can be filled with stacks folded up to 99 full or 363 empty. Resulting in reverse logistics costs to be minimized by 36% and storage space of empties by 30% compared to the previous generation of FLC.
Magnum Optimum® 1208 can be used for a variety of applications, suitable for almost any market. All quality standards of European guidelines for large load carriers are met by the Magnum Optimum.
the Magnum Optimum® 1208 is RFID and IOT ready. With integrated A5 label holders on one end and one side, bar code label recessed zones, large marking plates on four walls, Magnum Optimum® 1208 options are multiple for maximised flexibility. Smooth internal and external surfaces allow fast and easy cleaning, avoid water retention and protect content from damages. The optional lid increases protection and prevents contamination of content.
Using the Magnum Optimum®, transport routes are optimized, costs are reduced whilst protecting the environment through lower CO2 emissions. The lower weight due to the welded and ribbed construction, more goods can be loaded and trucks have to drive less often. The Optiframe® spacer allows increasing usable height by 105 mm step adapting volume to the type of content. For the Automotive industry logistics, dunnages, plastic or textile, fit inside the folded Magnum Optimum® 1208 for an efficient empties return.
New unique push self-lock door for improved ergonomics and maximum labor savings. One drop door on one long and short side in the standard version enables easy loading and unloading. Due to the base and the entry marking, the Magnum Optimum® 1208 is suitable for shunting with forklift trucks.
More details
Benefits
Easy to handle
Foldable design
Easy to clean - smooth design
Available in multiple heights
Drop doors - easy access
Easy customisation
100% plastic - no corrosion
Easy to repair - bayonet system
OptiFrame allows flexibe upscaling with 105mm per unit
Easy to fold - hinge system
ID plates - customisation & handling guide
Label holders available
Secured loads - strap locations on base
Easy to handle
Non sequential folding - able to fold in 5 seconds
Foldable design - reduced reverse logistics costs
SmartLink ready